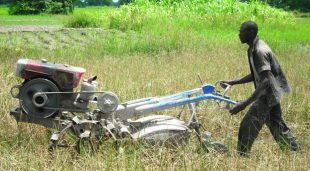 Mechanised agriculture is the process of using agricultural machinery to mechanise the work of agriculture, greatly increasing farm worker productivity. In modern times, powered machinery has replaced many farm jobs formerly carried out by manual labour or by working animals such as oxen, horses and mules.
Mechanization covers all levels of farming and processing technologies, from simple and basic hand tools to more sophisticated and motorized equipment.It eases and reduces hard labour, relieves labour shortages, improves productivity and timeliness of agricultural operations, improves the efficient use of resources, enhances market access and contributes to mitigating climate related hazards.
Sustainable mechanization considers technological, economic, social, environmental and cultural aspects when contributing to the sustainable development of the food and agricultural sector
"Mechanization may be either partial or complete. It is partial when only a part of the farm work is done by machine. When animal or human labour is completely dispensed with by power supplying machines, it is termed as complete."
"Broadly speaking mechanization of agriculture has two forms mobile mechanization and the stationary types of mechanization. The former attempts to replace animal power on which agriculture has been based for very many centuries; while the latter aims at reducing the drudgery of certain operations which have to be performed cither by human labour or by a combined effort of human beings and animals."
Benefits of Mechanization of Agriculture
Mechanization is a crucial input for agricultural crop production and one that historically has been neglected in the context of developing countries. Factors that reduce the availability of farm power compromise the ability to cultivate sufficient land and have long been recognized as a source of poverty, especially in sub-Saharan Africa. Increasing the power supply to agriculture means that more tasks can be completed at the right time and greater areas can be farmed to produce greater quantities of crops while conserving natural resources. Applying new technologies that are environmentally friendly enables farmers to produce crops more efficiently by using less power.
Sustainable agricultural mechanization can also contribute significantly to the development of value chains and food systems as it has the potential to render postharvest, processing and marketing activities and functions more efficient, effective and environmentally friendly.
Increasing levels of mechanization does not necessarily mean big investments in tractors and other machinery. Farmers need to choose the most appropriate power source for any operation depending on the work to be done and on who is performing it. The level of mechanization should meet their needs effectively and efficiently. Women play an important role in many farming based communities, and in some countries, up to 80 percent of the total farm labour comes from women. This implies that power sources (human, animal or motor-based) need to be adapted to such necessities from an ergonomic, social, cultural and economic point of view. The reduction of drudgery is a key element of sustainable mechanization and contributes to reducing women's hard workload by taking into consideration technologies apt to their needs and improving their access to appropriate forms of farm power.
Sustainable mechanization can:
– increase land productivity by facilitating timeliness and quality of cultivation;
– support opportunities that relieve the burden of labour shortages and enable households to withstand shocks better;
– decrease the environmental footprint of agriculture when combined with adequate conservation agriculture practices; and
– reduce poverty and achieve food security while improving people's livelihoods.
Mechanization Increases the Yield of Land Per Unit of Area:
S.E. Johnson holds that "of 28 per cent increase in farm output in U.S.A., above the average of 1934-39 only about one-fourth is due to better weather, probably less than 15 per cent has resulted from expansion of crop, land acreage and the rest, about 60 per cent is largely accounted for by the fuller use of the improvements in crops, live stocks and machinery. Increase in the yield of crops, due to mechanization of farms, has been traced from 40 to 50 per cent in the case of maize; 15 to 20 per cent in Bajra and Paddy; 30 to 40 per cent in Jowar, Groundnut and Wheat."
Mechanization Results in Lower Cost of Work.
It has been accepted by all that one of the methods of reducing unit costs is to enlarge the size c* the farms and go in for more intensive farming. It is found that the cost of production and the yields can be adjusted properly if mechanization is resorted to.
It Contracts the Demand for Work Animals for ploughing water lifting, harvesting, transport etc.:
In actual operation, costs amount to little when machines are idle, whereas the cost of maintenance of draught animals remains the same during both periods of working and idleness, because animals have to be fed whether they are doing work or not. It is advantageous to use tractors when a great deal of work has to be done in a short time.
It Brings in other Improvements in Agricultural Technique:
In its training come improvements in the sphere of irrigation, land reclamation and the prevention of soil erosion. The present-day dependence on the monsoon as the only irrigation of crops in India can be obtained by a more scientific approach.
Besides, ploughing by tractor reclaims more land and thereby extends the cultivated area as the tractor smoothens hillocks, fills in depressions and gullies and eradicate deeps-rooted weeds. It also prevents soil erosion. Besides mechanical fertilization, contour bunding and terracing are done by mechanical methods with the help of self-propelled graders and terraces.
It Modifies Social Structure in Rural Areas:
It results in a significant modification of the social structure in rural areas. It frees the farmers from much of the laborious, tedious, hard work on the farms. The pressure on land decreases and the status of the farmers improves.
It Leads to Commercial Agriculture:
Mechanisation results in a shift from 'subsistence farming' to 'commercial agriculture. This shift occurs mainly due to the need for more land and capital to be associated with farmer in order to reap the full technological benefits.
This in its turn gives rise two tendencies:
(i) Gradual replacement of domestic or family by commercial methods, and
(ii) Search for international markets for agricultural produce.
It Solves the Problem of Labour Shortage:
In countries where human labour falls short of requirements in agriculture, use of machines can replace human and animal power.
It Releases Manpower for Non-Agricultural Purposes:
Since the mechanisation of agriculture results in the employment of lesser number of persons on farms, surplus manpower may be available for other economic activities.
It Results in Better Use of Land:
Mechanisation also results in better utilization of agricultural land for "the substitution of gasoline tractor for animal power means reduced demand. The use of machine energy, therefore, leads to good agricultural production, to trade many crops or saleable animal products in short, to an exchange economy and a system of land utilization in which cultivator rests on a different and infinitely more complex basis than is found in the local self-sufficient economy."
It Increases Farm Income:
With the introduction of mechanisation the farm income as well as the individual income goes up. E. G. Nourse writes, "It accounts for the unparalleled rise of national income and with it the standard of living, it builds cities, it raises an ever loftier superstructure of financial, commercial and other cultural institutions; it turns loose economic agglomerates into social economies to closely knit by a thousand lines of interdependence. It creates much of the capital surplus on which modern economic progress is largely based. It constitutes, the lion's share to the public funds which support education, health and law and order. In short, not only do machine industry, and mechanisation and science render agriculture efficient, they create the very world in which this efficient agriculture can sell its bountiful crops."
It Reduces Fodder Area and Enlarges Food Area:
"With the introduction of mechanisation in agriculture the surplus animal power would be reduced so that large areas of land required for producing fodder for it can be utilised for producing food for human consumption. The remaining cattle population would be better attended to and better fed under mechanised agriculture, for new and nourishing varieties of feeding stuff would be grown in cultural (waste lands after reclaiming them for cultivation." (Dr. Memoria)
Mechanisation strategies
There is current consensus on the fact that smallholders must form organised groups to not only facilitate access to farm machinery but also to optimise and maintain it, because tractors may be operational for 5-30 years depending on how well they are maintained.
As a prime example in Africa, agricultural equipment cooperatives have been running smoothly for 20 years now in Benin and this model is being emulated elsewhere (see the Interview with Theo de Jager), but in highly varied settings. In Bacaad, Somalia, individual farmers have formed an effective cooperative, which is presently 115 members strong. In April 2015, the International Committee of the Red Cross supplied it and 15 other cooperatives with tractors, while also offering training programmes on agricultural management and data collection. Elsewhere, through the Agriculture Development and Value Chain Enhancement Project, the Zambian government delivered 31 tractors in 31 chiefdoms between 2015 and 2016, particularly to women farmers' cooperatives, including the Tigwilizane Women Club in Zambia's Eastern Province.
Individual mechanisation initiatives, also based on the sharing economy concept, are increasing in number. Yet cooperatives are not a cure-all. In Nigeria, for example, the Hello Tractor technology start-up sells smart two-wheel tractors equipped with GPS and a telematics system which are hired out to individual farmers. Farmers requiring a tractor send a text message request to Hello Tractor, which in turn transmits the message to a smart tractor owner located in the vicinity of the requesting farmer, who eventually makes a mobile phone payment once the work is done. The tractor owner – through the GPS and telematics system – is always aware of the location of the tractor and whether it needs maintenance or repairs. This system also enables data collection on the farm location and size, and planting and harvesting times. These data, combined with other information on weather conditions and soil type, could help enhance the system so as to better meet farmers' specific needs in the future. These easy-to-use 15 horsepower tractors cost €3,700. In 2016, Hello Tractor had already sold 1,000 tractors in Nigeria. The Hello Tractor formula works so well that last year it managed to raise €2.8 million, including €950,000 from the United States Agency for International Development, to provide 24,500 smallholder farmers with access to its services.
In India, the start-up Trringo proposes an Uber-type service whereby a small-scale independent farmer can hire a tractor with a driver. A farmer can place a call or use Trringo's mobile app which will put them in touch with a tractor owner offering the service. At the end of the job – like Uber clients – the hiree farmer can appraise the tractor owner.
Rent to Own is an NGO that was founded in Zambia in 2010 to lease equipment packaged with various services (financial, training, and delivery). The equipment – including pumps, presses, tractors, shellers, and even bicycles – also acts as form of collateral to help stop farmers spiralling into debt. By early 2016, the company had over 1,800 clients, 25% of whom were women (and this ratio is increasing), and had delivered over 2,000 machines and parts to farmers in eight districts, in three different provinces (1,300 of which were purchased).
WeFarmUp – an Airbnb style agricultural equipment platform which is due to be launched in West Africa in 2018 – enables farmers to share their equipment. "By sharing equipment, someone who has purchased a piece of equipment can make it profitable by renting to other farmers who thus avoid falling into debt," says the co-founder Jean-Paul Hébrard. The platform was launched in France in 2015 and had 3,700 registered farmers and 2,500 machines for rent in the first year.
Farm equipment manufacturers are also not short of initiatives to help individual farmers. In February 2016, at the 10th Biennial US-Africa Business Summit in Addis Ababa, the AGCO equipment manufacturer discussed offering its Massey Ferguson Farm Mechanisation Package to farmers wishing to mechanise. This package included an MF 300 tractor and accessories, along with training sessions organised in partnership with the NGO Cultivating New Frontiers in Agriculture. This agricultural package is focused on boosting the cost-effectiveness and attractiveness of agricultural activities for young people. Italian, French and Polish companies, such as URSUS who are working in Ethiopia, are also attempting to increase their market share in Africa.
South-South cooperation
Brazil, Russia, India, China and South Africa (BRICS countries) are not only seen as a source of investment and technology but also as examples to be followed. Brazil, China and India, in particular, offer individual farmers and cooperatives a combined package of assistance, trade and investment.
After the Forum on China-Africa Cooperation in 2006, Beijing pledged to help Africa boost its agricultural mechanisation. Amongst other initiatives, China launched the Agricultural Technology Demonstration Centre concept, which has four functions: agrotechnological research, extension, training and the promotion of Chinese farming equipment. There are now 23 centres across Africa which are managed by public and private Chinese companies.
Meanwhile, the agricultural situation in Brazil, which combines large agricultural estates with many small-scale farmers, has prompted Brasilia to consider offering its solutions for application in Africa, says Lidia Cabral, an economist at the Institute of Development Studies in the UK. As part of its More Food International cooperation programme launched in 2010, Brazil has developed an export credit facility to grant concessional loans for the purchase of machinery manufactured in Brazil, accompanied by technical cooperation and advice on setting up a suitable legal framework. In Ghana, for instance, the Agricultural Mechanisation Service Enterprise Centre programme offers rentals of tractors and other equipment. Another major Brazilian initiative, the Programa Mais Alimento África, proposes credit lines to help small-scale farmers gain access to tools and machinery. In February 2017, Senegal received over 800 new equipped tractors, and the delivery of an additional 520 is pending.
Brazil, China and India are also building agricultural machinery plants (Tata, Mahindra, Sonalika, Angelique), while Tata Motors has developed tractor leasing operations in Kenya, Rwanda, Tanzania and Uganda. Chinese companies are also very involved in Africa, particularly the agriculture and construction machinery manufacturer, the YTO Group Corporation. In August 2009, YTO and the China-African Development Fund founded the China-Africa Machinery Corp. in which YTO exports agricultural machinery and invests in assembly plants and service centres, particularly in Algeria, Angola, Egypt, Ethiopia, Kenya, Nigeria and South Africa.
Developed countries at the starting blocks
In addition to BRICS countries, developed countries have increasingly become mobilised in recent years. In 2016, as part of the American Feed the Future initiative, the Appropriate Scale Mechanization Consortium was jointly launched by four universities in the United States, two in Asia and two in Africa, in conjunction with technical partners such as the American NGO Tillers International and CIRAD, the French agricultural research and international cooperation organisation. This 4-year project aims to develop locally tailored small-scale agricultural mechanisation, especially in collaboration with women farmers.
In 2015, FAO signed a partnership with the European Committee of Associations of Manufacturers of Agricultural Machinery to promote sustainable agricultural mechanisation in Africa through a public-private partnership. This partnership was broadened in December 2016 to include the African Conservation Tillage Network, AfricaRice, the Alliance for a Green Revolution in Africa, and the World Bank at a consultative meeting in Nairobi on a mechanisation strategy.
The aim was to develop regional pilot projects on mechanisation underpinned by public-private and private-private partnerships. One of the main conclusions of the meeting stressed that agricultural mechanisation needs to be adapted to local conditions because no one recipe exists for the differing ecological conditions in which African farmers operate. It was also deemed to be crucial that agricultural mechanisation is environmentally compatible, economically viable and that, in the view of the changing climate, it is climate-smart. Participants agreed that FAO, in collaboration with partners, would develop a concept note to advance sustainable mechanisation in Africa that will be tabled at the high-level meeting of the African Union Commission for endorsement in 2017.
Agricultural mechanisation in Africa now, more than ever before, needs to be approached pragmatically. Private business solutions must be combined with government policies while targeting both individual farmers and cooperatives, and draw on the most advanced technologies so as to tailor machinery to the specific needs of every small-scale farmer.
Important arguments against mechanisation are:
(1) Small Sized Farms:
The existence of a large farm is an essential condition for mechanisation. For proper and best utilisation of agricultural machines, holdings will have to be large and should be (bund together and not scattered in tiny plots as is the case in India.
Mechanisation has no scope in India because of the extremely small size of holdings which arc between 3 and 12 acres. Even these small holdings are not found together but scattered over the village in tiny bits. A tractor cannot be used to plough a quarter of an acre plot. This is not a valid criticism because such farm machinery like a pump set can be installed even in a small farm of half an acre.
(2) Surplus Agricultural Workers:
The basic defect of mechanisation is that it will result in too many agricultural workers becoming surplus. Millions of farmers will be thrown out of land and will have to be provided alternative sources of employment.
It is impossible to provide alternative employment for millions of persons. In U.S.A. and Canada, the real problem is shortage of labour and to overcome this difficulty, machines were invented and used, as labour saving devices.
But India has abundant labour and there is the necessity to use this labour and not keep, it idle. What is, therefore, useful and necessary for the Western countries, need not be so for India too. Use of farm machinery may create unemployment only in the short period. In the long run, there will be more employment opportunities.
(3) Surplus Cattle:
The adoption of farm machinery will throw not only men out of employment but it will render the existing cattle population surplus and unnecessary. To cut down the existing cattle population will be a difficult problem. But as is well known, it will indeed be beneficial for India to reduce somehow its cattle population.
(4) Poor, Illiterate and Ignorant Farmers:
The Indian farmers are, in general, poor and, therefore, will not be able to buy expensive tractors and other farm machines. Besides, the farmers are uneducated. They will not be able to understand the use as well as the working of expensive farm machinery. This criticism can be easily answered. Farmers can always join together and purchase expensive farm machinery. Or the village co-operative society can purchase it and hire it out to farmers.
(5) Imports:
India may not be in a position to produce farm machinery on a large scale. Necessarily, therefore, she will have to depend upon foreign countries. This is only a short period problem.
(6) No Increase in Productivity of Land:
Mechanisation may not increase productivity of land. The crucial problem is to increase the productivity of land, because land is a scarce resource of the country. The increase in the productivity of land is much more important than the increase in the productivity of labour In a country like Japan, where mechanisation of farming is not adopted, productivity per hectare has been maximised because of intensive cultivation.
(7) Lack of Spare Parts and Service Facilities and Shortage of Power:
There is also lack of spare parts and service facilities in the rural areas, and an acute shortage of kerosene, petroleum and diesel oil. These need to be imported from abroad at a high cost and this might lead to a heavy drain on foreign exchange reserve.