Microsoft Office PowerPoint 
Creating a Presentation
Identify components of the PowerPoint window
You will recognize some of the features of the PowerPoint window that are common to Windows programs, such as the Standard toolbar and menu bar.
Some toolbar buttons and panes are new and specific to PowerPoint.
The PowerPoint window now contains a pane on the left side in which you can switch between the Outline tab and Slides tab.
–The Outline tab shows an outline of the presentation, including titles and text of each slide
–The Slide tab shows a column of numbered slide thumbnails, enabling you to view several slides at the same time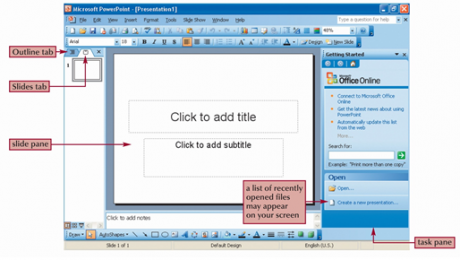 Open and view an existing PowerPoint presentation
When you start PowerPoint, the New Presentation Task Pane will appear on the right side of the PowerPoint window.
If the New Presentation Task Pane does not display, select Task Pane on the View menu.
Click the More link under Open in the Getting Started task pane.
Locate the presentation you wish to open and click the Open button.
You can view the presentation in Normal View, which displays slides one by one in the Slide Pane.
In Slide Sorter View, all the slides are displayed as miniature images (thumbnails).
Opening an existing presentation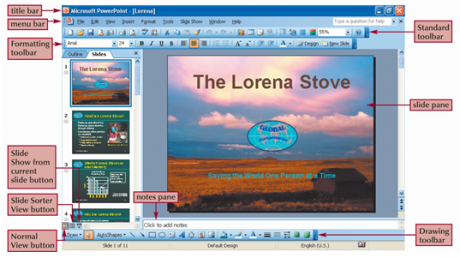 PowerPoint Normal view
In Normal View, you can display up to three panes in addition to the Outline or Slide tab:
–The Slide Pane shows the current slide
–The Notes Pane contains notes you might prepare for slides
–The Task Pane lets you quickly select tasks to work on
Viewing slides
Use Slide Show View to view the slide show to see how it will appear when presented.
The slide show begins by filling the entire viewing area with the first slide.
Press the space or the right arrow key, or click the mouse to advance to the next slide.
Use Slide Show view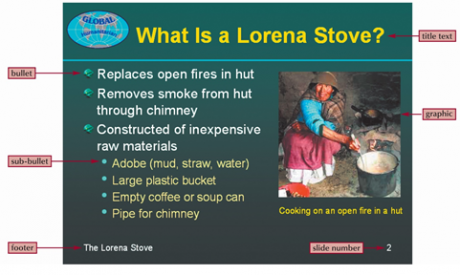 Create a presentation using the AutoContent Wizard
Wizards help you quickly create presentations by first asking you a series of questions about what you want to accomplish and then creating a presentation based on your answers.
The AutoContent Wizard lets you choose the type of presentation you want to create, such as Training, or Recommending a Strategy.
PowerPoint provides a number of presentation categories from which you can choose a specific type.
Once you've selected a presentation type from one of the categories, the AutoContent Wizard creates a general outline for you to follow, and formats the slides using a design template.
You can easily modify the content of the presentation to suit your needs.
AutoContent Wizard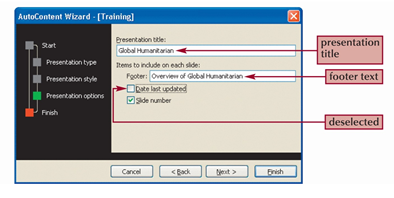 Editing Slides
Edit slides by clicking inside the placeholder text and typing your own
–Slide title
–Bulleted items
–Sub-bulleted items

Delete a slide
Right-click the slide icon on the Outline tab next to the slide you wish to delete, and select Delete Slide on the shortcut menu.
Select Delete Slide from the Edit menu on the menu bar.
Add a new slide
As you create your presentation, you might need to insert new slides that the AutoContent Wizard did not create or delete unnecessary slides that the AutoContent Wizard did create.
You can add or delete slides in Normal View or Slide Sorter View.
To add a slide:
–Click the New Slide button on the Formatting toolbar
–In the Slide Layout Task Pane, select from different slide layouts, which define how text and content is arranged on the slide
–PowerPoint supports four text layouts and several text and content layouts
The Slide Layout Task Pane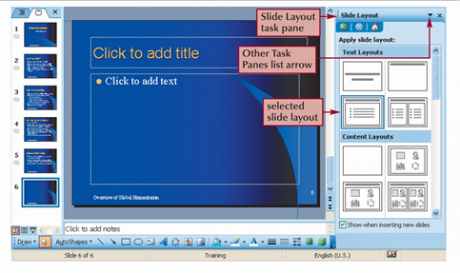 Delete or move slides
To delete a slide, select it in the Slide Pane (in Normal View) or in Slide Sorter View, and select the Delete Slide command on the Edit menu.
It's easiest to move slides in Slide Sorter View.
Click the slide to select it, and drag the slide to its new location.
–When you select the slide, a thick border line will appear around the slide
A vertical line will appear between slides as you drag to indicate where the slide will be inserted if you release the mouse button
Promote and demote text in the Outline tab
You can increase or decrease the outline level of an item. For example, you might want to change a bulleted item to be the title of the slide.
This is referred to as promoting the item.
If you do the reverse, it is referred to as demoting the item.
You promote and demote items using the Outline tab.
Select the item you want to move and then click either the Decrease Indent button to promote the item, or the Increase Indent button to demote it.
Create a new slide by promoting text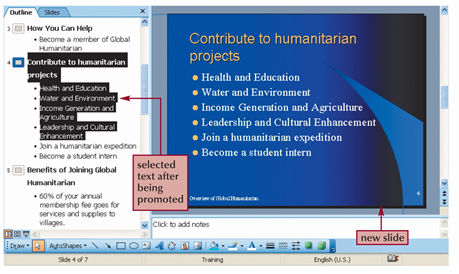 Move a slide in Slide Sorter view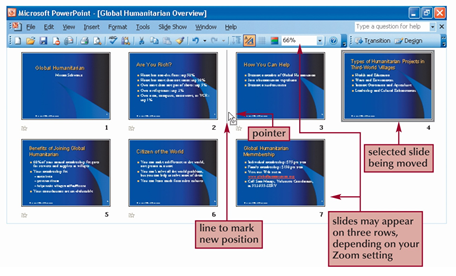 Check the spelling and style in a presentation
PowerPoint has a Spell Checker feature that identifies any word not found in the PowerPoint dictionary with a red, wavy underline.
Words marked by the Spell Checker are not always misspelled.
–Proper names will often be flagged even though they are spelled correctly.
You can adjust the Spell Checker settings to ignore such words.
Use the Style Checker
The Style Checker feature marks potential consistency and style problems with a light bulb icon.
These settings are also adjustable to meet the specific needs of your presentation, as indicated by the various options in the Style Options dialog box.
For example, you might want to deselect the option for sentence case in the body text style so that the light bulb does not appear if you do not write all body text items using sentence case.
Both the Spell Checker and the Style Checker offer suggestions for correcting problems that could compromise the effectiveness of your presentation, whether due to a misspelled word or lack of parallel structure.
The Style Checker dialog box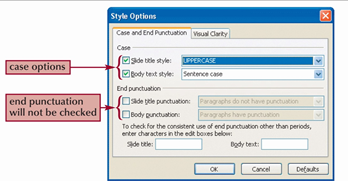 View problems marked by the Style Checker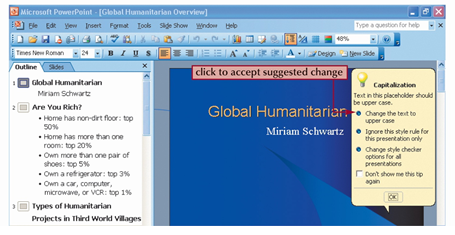 Create speaker notes for slides
PowerPoint enables you to create speaking notes to accompany each slide and then print these notes along with a small picture of the slide.
For example, you might have short bulleted items on the slide that you want to discuss in greater depth while you deliver the presentation.
You can type these notes in the Notes Pane in Normal View, and then print them to use while you speak.
You can edit and format notes just as you would any text in the presentation.
Notes do not appear in the slide show.

Preview and print slides
Preview your presentation before printing slides or presenting the slide show.
When you preview the slide show, consider whether the elements are legible for your printer settings.
–If you are printing in black-and-white, some color variations will be difficult to see or the graphics might make text difficult to read
If you are satisfied with the presentation, you can print slides for your audience.
Print Notes Pages, full-page slides, or handouts with two-to-nine slides per page.
Preview in Grayscale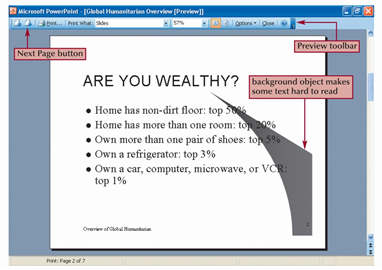 Print outlines, handouts, and speaker notes
PowerPoint provides you with a number of printing options:
–Print the slides in Outline View, which looks just like what you see on the Outline tab
–Print handouts with 1, 2, 3, 4, 6, or 9 slides per page
–Print speaker notes, where a picture of each slide and its corresponding notes appear on one printed page.
You choose these options in the Print dialog box.
Click the arrow on the Print what box to choose Outline View, Handouts, or Notes Pages.
The Print dialog box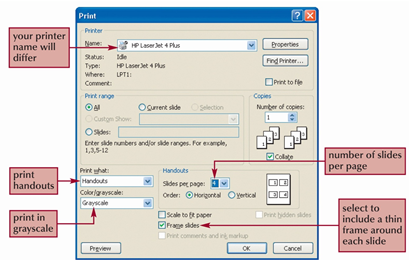 Qualities of a good presentation
Outline 
Make your 1st or 2nd slide an outline of your presentation
–Ex: previous slide
Follow the order of your outline for the rest of the presentation
Only place main points on the outline slide
–Ex: Use the titles of each slide as main points
Slide Structure – Good
Use 1-2 slides per minute of your presentation
Write in point form, not complete sentences
Include 4-5 points per slide
Avoid wordiness: use key words and phrases only
Slide Structure – Bad
This page contains too many words for a presentation slide.  It is not written in point form, making it difficult both for your audience to read and for you to present each point. Although there are exactly the same number of points on this slide as the previous slide, it looks much more complicated.  In short, your audience will spend too much time trying to read this paragraph instead of listening to you.
Slide Structure – Good
Show one point at a time:
–Will help audience concentrate on what you are saying
–Will prevent audience from reading ahead
–Will help you keep your presentation focused
Slide Structure – Bad
Do not use distracting animation
Do not go overboard with the animation
Be consistent with the animation that you use
Fonts – Good
Use at least an 18-point font
Use different size fonts for main points and secondary points
–this font is 24-point, the main point font is 28-point, and the title font is 36-point
Use a standard font like Times New Roman or Arial
Fonts – Bad
If you use a small font, your audience won't be able to read what you have written
CAPITALIZE ONLY WHEN NECESSARY.  IT IS DIFFICULT TO READ
Don't use a complicated font
Colour – Good
Use a colour of font that contrasts sharply with the background
–Ex: blue font on white background
Use colour to reinforce the logic of your structure
–Ex: light blue title and dark blue text
Use colour to emphasize a point
–But only use this occasionally
Colour – Bad
Using a font colour that does not contrast with the background colour is hard to read
Using colour for decoration is distracting and annoying.
Using a different colour for each point is unnecessary
Using a different colour for secondary points is also unnecessary
Trying to be creative can also be bad
Background – Good
Use backgrounds such as this one that are attractive but simple
Use backgrounds which are light
Use the same background consistently throughout your presentation
Background – Bad
Avoid backgrounds that are distracting or difficult to read from
Always be consistent with the background that you use
Graphs – Good
Use graphs rather than just charts and words
–Data in graphs is easier to comprehend & retain than is raw data
–Trends are easier to visualize in graph form
Always title your graphs
Graphs – Good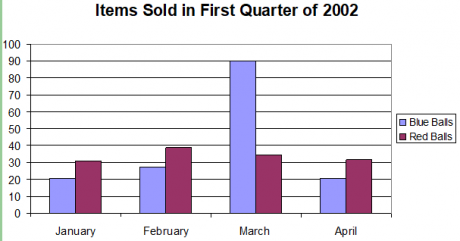 Graphs – Bad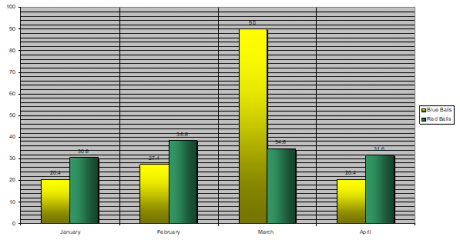 Graphs – Bad
Minor gridlines are unnecessary
Font is too small
Colours are illogical
Title is missing
Shading is distracting
Spelling and Grammar
Proof your slides for:
–speling mistakes
–the use of of repeated words
–grammatical errors you might have make
If English is not your first language, please have someone else check your presentation!
Use an effective and strong closing
–Your audience is likely to remember your last words
–Use a conclusion slide to:
–Summarize the main points of your presentation
–Suggest future avenues of research
Questions??
-End your presentation with a simple question slide to:
–Invite your audience to ask questions
–Provide a visual aid during question period
–Avoid ending a presentation abruptly.